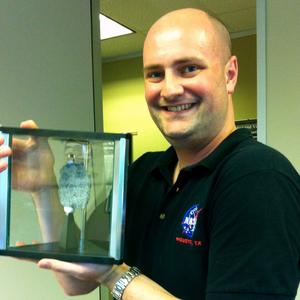 TWITTER:
@MyMoon_Andy
FACEBOOK:
uashaner
FLICKR:
lunr
YOUTUBE:
MyMoonLPI
INTERESTS:
ART, MUSIC, MOVIES, SCIENCE, PHOTOGRAPHY, READING, POLITICS, NASA, SPACE EXPLORATION, NOT-SO-EXTREME SPORTS, ALL THINGS LUNAR, HISTORY
BADGES:
Log In To Friend This Person!
Allow myself to introduce myself. I am Andy Shaner. I am an education and public outreach specialist at the Lunar and Planetary Institute and am one of the gatekeepers of the MyMoon website.
To say the Moon had a small influence on my early fascination with astronomy would just be wrong. The first object I pointed my first telescope at was the Moon. Unfortunately, it was during a full moon so it was a little uncomfortable, borderline painful, to look at. But two nights later, I was back outside. I loved looking at the Moon through my telescope, as well as other objects like Jupiter and Saturn. Once I was old enough to appreciate the fact that astronauts had visited the Moon and that spacecraft were orbiting and landing on other planets, I was hooked. By the time I graduated high school, I knew that my life would always be connected to the sky and the celestial objects housed within.
Obviously, growing up under the dark Kansas sky had a profound influence on my life. Today, I find myself in a position in which I try to have a profound influence on others as a space science educator. I hope to foster an appreciation in others for not only the Universe, but also for humanity's efforts to explore the Universe. I would like to invite you to join MyMoon and read and comment on our blog entries as well as posting your own stuff! We also would love to get your feedback. Good or bad, let us know what you're thinking. We can take it.